If RBE concepts result in a higher standard of living, and I believe they do even applied on a micro scale, then this should be the aim.
Reminded me of xkcd.com/808/ :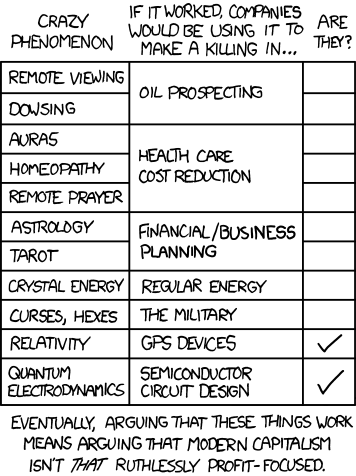 If TVP's methodology would work, people WOULD be making a killing by changing the social order of local communities. People would pay like crazy to visit "futuristic" societies and get small insights in energy-, money- and resource-saving inventions.
That's not to say I'm vehemently opposed to all of their message; basing the entirety of economic actions on the pursuit of profit for oneself does, I would argue, lead to distortive and corruptive effects in the long term.
There simply are better and worse ways for a civilization to use its productivity and resources and ignoring the obvious (and in my opinion, interesting) questions that can be raised about this topic and putting all faith in something as detached from long-term thinking, social responsibility and stability as the market just seems ridiculous to me.
Still, TZM/TVP manages to discover a field as interesting as medicine and turns it into something as dull and unscientific as "alternative" medicine. They don't try to improve the real sciences (economics, politics, sociology), but try to frame them as fraudulent and useless and offer instead an unrealistic, unscientific, unproven and maybe unprovable replacement.
I can see why the few intellectuals who might be attracted to the topic per se and would have some money to spend aren't going to be joining this kind of movement.
I'm not even going to comment on the purpose of those donations.